Time  Called--Madison
Starring Madison Chandler
Directed by JohnM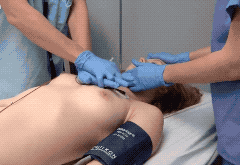 LINK TO VIDEO PREVIEW
Note: 1920X1080 Native Encode/Restoration Edit/60FPS Up-conversion
A young woman is in the hospital. They do an evaluation on her, then let her rest. Shortly, she codes. They rush in and start life-saving procedures. They give mtm and chest compressions. After a while of that, they add the defibrillation.
Nothing. Again. Nothing. Still again. Still nothing. They go back to work on her. They try medication as well. And nothing still. They are losing hope that she can come back. It has been almost too long. They finally try paddles one last time. Nothing and nothing.
Finally, they call time. They unhook her leads, BP cuff, etc. They cover her up and leave.
Role Play & Fetish Elements: Nudity, Defibrillation, Mouth to Mouth, Manual Chest Compressions, CPR, Medical Death.
Note: Actresses are over 18 at the time of filming and the word "teen", "teenage", "young girl" is only meant to imply legal age characters regardless of audience interpretation.

PKF Studios adheres to USC 2257 record keeping requirements.
1920X1080 HD 60FPS MP4 Format
PURCHASE OPTIONS AT: PKF UPDATES
Or Pre-fund an account through PKF Studios:
LEARN MORE
Purchasing or General Questions: CONTACT ME