"Student Blackmail IV"
Starring Hunter
Directed By JohnM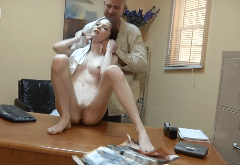 LINK TO VIDEO PREVIEW
Note: Re-Encoded to FULL 1920X1080 HD
The photography teacher was in his office after school when he heard a familiar knock. He opened the door and want entered was his little piece of almost jailbait heaven--Hunter.
He threw her on his desk, ripped her clothes off and fucked the barely over 5 foot glee club girl with perfect 32C titties.
When it was over, covered in sweat, he handed her the t-shirt he had ripped off to clean herself up. He had been fucking this girl since before she was legal. He recently rented a little apartment where they would meet up anytime. She was on the outs with her parents and actually started staying there.
Now, she started asking him for more money as he got dressed. She asked him for a car too. He was smiling, she was so cute, it was a joke or something. But, she kept asking and he finally just said no. Then, things took a turn for the worse.
She told him about what she knew--about his wife--threatened to tell her. Blackmail. That was one thing he did not tolerate. While she sat there naked, smiling smugly on the desk, he had already picked up that torn t-shirt. The strip of fabric that was dangling he quickly placed around her neck, cutting her off.
She struggled, no air, no noise came out--it was THAT tight. She could only scratch at the fabric, little clicks and scratches of her nails could be heard.
Then, holding the garrote tight with one hand--she was so small and petite it was easy to control her, with his other hand, he started fingering her.
At first, it was just for the hell of it as she struggled and shook. Then, he noticed she was getting wet--really wet and he started banging her pussy with his fingers and he murdered her. She was responding to, actually fucking his fingers with her wet cunt.
Her eyes were wide, mouth open, tongue would poke out, her body would shudder--like little orgasms were racing through her. Her leg muscles were locked and spasming, her foot shaking fast and violently like a seizure.
He repositioned her a couple times, getting her on her side at one point, then back on her back. At one point, he held his fingers still while her pelvis thrusted, searching and drawing in his fingers. She shuddered some more, grew weaker, her pussy, swollen and lusting for sex as she slowly died.
He worked on finishing her--he was getting tired and she had gone a long, long time. Her hips kept slowly thrusting--her pussy begging for something to enter, but he was done with that and just wanted the little whore dead.
And, he got his wish. Slowly and ever so slowly, and finally just was still--her arm flopped off to one side--palm up. She was dead.
He removed the garrote, deep red marks on her neck. He spin her around on the desk, quickly slipped inside of her and was fucking her for the last time. But, something was different. He had already moved on and was visualizing Casey Peterson from 5th period as his next little bitch. This girl, this Hunter, was done, a waste of flesh, not even worth being a receptacle for his cum. He pulled out, zipped up and left. He would deal with her later.
Contains: Nudity, Teenage/Young, Explicit Sexual Content, Sex, Garrote Strangle, Orgasmic/Sexual Strangle, PM Sex, Foot Views, Body Views.
Note: Actresses are over 18 at the time of filming and the word "teen", "teenage", "young girl" is only meant to imply legal age characters regardless of audience interpretation.
PKF Studios adheres to USC 2257 record keeping requirements.
This movie presented in High Definition
1920X1080HD MP4 Format
Direct Purchase Link:
Or, try these alternatives:
(Must have an established account)
Or Pre-fund an account through PKF Studios (Me)–Learn More:
johnm.pkf@gmail.com