"My Plan"
Starring Soleil
Directed By JohnM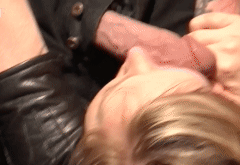 LINK TO VIDEO PREVIEW
Note: Re-Encoded to FULL 1920X1080 HD
She did not know me. I was no one. But I was about to get to know her--intimately and fatally.
I thought about her for years and watched her for months. I knew all her habits. I knew where her husband went and what times she went to the store, the hairdresser. I knew it all. And, my plan was perfect. When the wireless people came to her house to update her internet, I knew it was time to act.
She was sitting on her couch, reading. My last check of the cam I wired up months ago confirmed that. Best of all, she was comfortable, very comfortable. Paul, her husband was at work, but was going out with the guys after and would be late. He knocked.
She was a beautiful as ever. Though he passed her on the sidewalk every so often when she would come out to get the paper he had so conveniently moved toward the end of the driveway--it was not the same as now. Now, he could smell her as she peered at him through the open door.
And, then he was in. In her home. Smelling her, all around him. He could just barely contain his excitement. Already he was hard and did his best to hide it by getting right to work. The moment was near.
He knew she was instantly nervous and her catching him looking at her was not to slick. He decided he would just do it.....no time like the present.
He got up, his smile changed to a stare and she was aware right away that she was in trouble. The stand off was brief. The two slowly vying for position, then, he caught her glance and what her play was.
She bolted for the left-side desk drawer and had her husbands gun in her hand. Just a half-second longer and maybe, just maybe the she could have used it. Would she even? He never gave her the chance. He wrestled the gun out of her hand then hit her hard on the head with the butt. She went down. Unconscious.
Now she was on his time. He roughly dragged her to the center of the room, pushed her legs apart and got his throbbing hard cock inside her as quick as he could. All the years waiting and now he was living his fantasies. She did not disappoint. Warm, tight, the feeling of her pussy around his cock was incredible. He fucked her and as he did, worked on getting her clothes off so he would see the rest of her goodness.
After a while she came too and she moaned and cried while he continued to rape her. She did not like it, but she could not do anything about it. He raped her for a long time until finally, finally, all the pent up lust exploded and he filled her up with his seed.
The ending was anticlimactic. He got up. He helped her up, set her on the couch, gave her the coffee she had--still warm hopefully. Then, he went to his bag. He knew she was watching him--in shock. He was prepared if she tried to run, but he knew her. She wouldn't. She would just wait for him to leave, then break down in tears and try to make these days events go away. She might even hide what happened from her husband.
If only she got the chance. But there was one more thing he wanted to do. Something he aways wanted to do. Raping her was just one part of it.
He slipped on the gloves and approached her. She watched his hands. It really did not click with her until he was around her neck and then, she freaked out. He lifted her up--adrenaline is powerful and he had the power. She was like a fucking rag-doll. He figured he would just crush her neck and it would be over. But, he'd never done this before. It was a learning experience.
She was a fighter and they flipped and flopped all over jockeying for a good position. It took a long, long time, all the while, her face red, her tongue lashing out and eyes wide.
Finally, he got her on her knees in front of him so he could look at her as he murdered her. And, it worked. She looked at him right back, staring with those big doe-eyes of hers. But there was no sympathy from him as he watched her. In fact, he felt his lust for her swell up again.
His cock was out of his pants, throbbing for release and there was her mouth, open, wet, tongue out. He could not think of anything more exciting and even with the risks, he let his cock play with her mouth and soon, he was fucking her gaping mouth. She gagged on his cock as he chocked her, drool oozing out. It was the best thing he ever felt. Her body shivered and shook, her mouth formed around his cock as he pushed it in and out, a few times, he felt the back of her throat. She was dying. He knew it was time, so he let his cock slip out and he watched as her body shook and quivered. Finally, there was a last spasm and shudder and she was still. He was holding all her weight by her neck and he let her fall hard to the floor.
But, he was not done. He needed more and he worked his cock while standing over her hoping to release his load all over her cute titties. But, he wanted more and got her up on her couch and started fucking her dead body. She was still very warm, very tight. He fucked her hard and fast until he finished.
He was exhausted. This was well worth the years of investment. Only sad that it was a one time thing, but he was sure he would find another as he gathered up his things and left her violated and dead on the couch for her husband to discover.
Fetish Elements: Violence, Housewife, Stalking, Nudity, Explicit Sexual Content, Humiliation, Struggle, Unconscious, Rape, Forced Oral, Unconscious Sex, Leather Glove Hand Strangle, Multi-position Strangle, Lift Up Strangle, Cock Throttling while Strangled, Necro Sex, Lifting, Body Views.
Note: Actresses are over 18 at the time of filming and the word "teen", "teenage", "young girl" is only meant to imply legal age characters regardless of audience interpretation.
PKF Studios adheres to USC 2257 record keeping requirements.
1920X1080 HD MP4 Format
Direct Purchase Link:
Or, try these alternatives:
(Must have an established account)
Or Pre-fund an account through PKF Studios (Me)–Learn More:
johnm.pkf@gmail.com