---
"Inside Stalker 3"
PART 1
Starring Natalie Knight
Directed by JohnM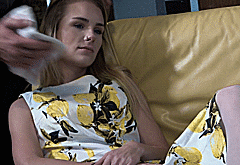 LINK TO VIDEO PREVIEW

The masked stalker enters soon after Natalie leaves her home. He lies in wait for her inevitable return. Once Natalie gets off the phone, he lunges from the shadows with a chloroform-soaked rag. He covers Natalie's face with it and she thrashes wildly on the sofa. By the time she passes out from the noxious chemical, her dress is hiked up around her waist, revealing her lace yellow panties and incredible ass.

With his coveted prize finally at hand, the stalker immediately starts groping Natalie's sexy bod. He places her on the floor and rubs her perfect pussy through her panties. The stalker shoves his fingers in Natalie's mouth, lubricating them with her spit. Then, he forces his meaty digits in her tight snatch. It's so perfectly tight and warm.

All the stimulation causes Natalie to stir slightly. The stalker forces his cock in her pretty mouth while she's still groggy. Her whining protests are muffled by his stiff dick. Natalie tries to crawl away, but she's still too weak. Her stalker holds her down and forces the rag over her face again. Her panicked mind slips into blackness.

After dragging Natalie to her bed, the stalker roughly shoves a finger in her cunt to test the chloroform's effectiveness. Natalie begins to stir, so he simply places the rag over her face again. With her sufficiently knocked-out, the stalker strips Natalie's chic outfit off and sinks his teeth into her ass.

The stalker ties Natalie down to the bed and gags her mouth with a bit, then proceeds to lavish her delicious pussy with his tongue. Natalie wakes up halfway through and squirms pathetically. The stalker flicks open his knife and cuts off Natalie's bright yellow bra. He squeezes her petite breasts roughly, biting and pinching her nipples.

After that prolonged nipple torture, the stalker cuts off Natalie's soaked yellow panties. He lets her squirm in horrified anticipation before eating her tasty twat some more. He retrieves Natalie's dildo from her nightstand and makes her to gag on it before forcing it painfully up her stuck-up cunt. He makes the uncooperative bitch get wet with a vibrator, eventually bringing her to an orgasm she didn't want. Finally, the stalker feels some sense of closure for Natalie ghosting him, but he's just getting started...

Continued in Part 2

Fetish Elements: Explicit Sexual Content, High Heels, Dress, Stockings, Garter Belt, Lace Panties, Attack, Chloroform, Groping, Forced Fingering, Forced BJ, Dragging, Stripping, Sexual Assault, Bound, Rope Bondage, Gagged, Pussy Licking, Knife, Clothes Cutting, Nipple Torture, Forced Dildo, Vibrator, Hitachi, Forced Orgasm, Non-Death.

Note: Actresses are over 18 at the time of filming and the word "teen", "teenage", "young girl" is only meant to imply legal age characters regardless of audience interpretation.

PKF Studios adheres to USC 2257 record keeping requirements.




1920X1080 HD MP4 Format

PURCHASE LINKS:
(Note:  You may have to turn of your ad-blocker or add a whitelist exception to see the link banners below.)

Direct Purchase Link:



Or, try these alternatives:



(Must have an established account)



Or Pre-fund an account through PKF Studios (Me)–Learn More:
johnm.pkf@gmail.com
"Inside Stalker 3"
PART 2
Starring Natalie Knight
Directed by JohnM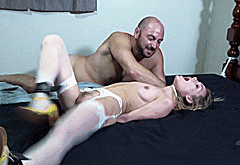 LINK TO VIDEO PREVIEW

Natalie's stalker gives her a few precious seconds to recover from the forced orgasm before forcing his cock in her pouty mouth again. He straddles Natalie, face-fucking her and smacking his rod against her bratty face. He unties Natalie and forces her to blow him, then forces his drool-soaked cock inside her sore snatch.

The stalker lives out all of his long-held fantasies. He forces Natalie's long legs open, drilling her tight box, then turns her around and pounds her doggystyle. Natalie whimpers and screams, but she can't escape his vengeful cock.

Once he's used her up from every angle, the stalker hogties Natalie and let's her stew for a bit. He returns later to spank Natalie's naughty ass. She finally stops screaming long enough for him to make her an offer. He'll let her live if she gives him the best blowjob of her life. Natalie reluctantly gets on her knees and goes to work servicing her attacker's cock.

The stalker rewards Natalie with a thick, ropey load all over her face. Then, he gives her the release she craves. With Natalie distracted, the stalker slips a length of rope around Natalie's neck. She thrashes wildly, sensing her impending doom. She can't escape though, and he chokes the life out of her. The stalker leaves Natalie lying on her bed, her cum-soaked visage frozen in a death mask.

The stalker returns before rigor mortis sets in for one last romp. He can really relax and savor the moment with Natalie finally silent and still. Her limp body is his to pose as he pleases. He leaves another healthy load all over Natalie's chest and bush. He was finally able to give his crush what she deserved.

Fetish Elements: Explicit Sexual Content, Face-Fucking, Gagging, Drool, Forced Sex, Hogtie, Spanking, Forced BJ, Ball Sucking, POV, Facial, Choking, Garrote Strangle, Death, Ligature Mark, Limp, Body Play, Necro Fucking, Foot Views, Body Views.

Note: Actresses are over 18 at the time of filming and the word "teen", "teenage", "young girl" is only meant to imply legal age characters regardless of audience interpretation.

PKF Studios adheres to USC 2257 record keeping requirements.




1920X1080 HD MP4 Format

PURCHASE LINKS:
(Note:  You may have to turn of your ad-blocker or add a whitelist exception to see the link banners below.)

Direct Purchase Link:



Or, try these alternatives:



(Must have an established account)



Or Pre-fund an account through PKF Studios (Me)–Learn More:
johnm.pkf@gmail.com