"A Kiss Before Dying 2"
Starring Knatalie Knight
Directed by JohnM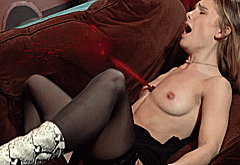 LINK TO VIDEO PREVIEW
The gorgeous blonde assassin has met and seduced her mark. Knatalie straddles Rock, grinding on his hard-on through his pants. Just when he's lost in the lust, she unsheathes the giant knife hidden in her garter. Before she can strike, a well-timed arrow impales her chest!
Rock throws Knatalie aside on the couch. The arrow pushes further through her chest. She screams in anguish as Rock impales her pussy. He fucks his would-be assassin through her final moments. Knatalie grips the bleeding wound between her tits. Cupid's arrow has struck her in a deadly way.
Rock moves Knatalie to the bed and pins her legs wide, so he can deep dick her dying cunt. Each stroke causes blood to ooze from Knatalie's arrow wound. Rock rips the arrow from Knatalie's torso and, as a final coup de grace, fucks her with the bloody arrow. He leaves it impaled in her dead twat. Bullseye.
Fetish Elements: Explicit Sexual Content, Kissing, Lingerie, Thigh Highs, Knife, Arrow, Impaled, Blood, SFX, Stripping, Fucking, Arrow in Pussy, Death, Necro, Foot Views, Body Views.
Note: Actresses are over 18 at the time of filming and the word "teen", "teenage", "young girl" is only meant to imply legal age characters regardless of audience interpretation.
PKF Studios adheres to USC 2257 record keeping requirements.
1920X1080 HD MP4 Format
PURCHASE LINKS:
(Note:  You may have to turn of your ad-blocker or add a whitelist exception to see the link banners below.)
Direct Purchase Link:
Or, try these alternatives:
(Must have an established account)

Or Pre-fund an account through PKF Studios (Me)–Learn More:
johnm.pkf@gmail.com