"Murdered for Snooping"
Starring Vienna Rose
Directed by JohnM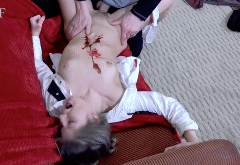 CLICK FOR VIDEO PREVIEW
A young cadet is having a fling with her commanding officer.
When he leaves the room to take a call, she snoops on his laptop and finds eroticized death photos.  She is in shock, but plays it cool when he comes back into the room.
The thing is, he saw her looking. So he convinced her to pose for some photos. But suddenly shoots her twice in the belly.  She sinks to the floor.
He shoot her two more times in the mound, then sets her against the unconscious girl against the couch and tries to unlock her phone so he can get the photos she took of his laptop images back.
Unfortunately for her, she does not use biometrics and her fingers are useless, so he had to do this old school.  He gets his m16 and runs the bayonet along her until he finds a nice spot to plunge the thick blade in.
This wakes her up and gets her to sing like a bird.  After getting the code, he figures he might as well fuck the soon to be dead girl one more time.  He gets her up on the couch and proceeds to fuck her until he is satisfied......the poor girl in moaning agonizing pain the whole time.
He sets her back down, then runs the bayonet through her chest, skewing her heart and killing her.  He leaves the dead girl in the hotel room for the maids to discover---by then he will be in long gone!
Fetish Elements: Nudity, Young/Teen, Unconscious, Belly Shooting X2, Pussy Shooting X2 (no blood FX), Bayonet Stabbing X2, Leg Views, Forced Sex, Body Views. 
Note: Actresses are over 18 at the time of filming and the word "teen", "teenage", "young girl" is only meant to imply legal age characters regardless of audience interpretation.
PKF Studios adheres to USC 2257 record keeping requirements.
1920X1080 HD MP4 Format
Direct Purchase Link:
Or, try these alternatives:
(Must have an established account)
Or Pre-fund an account through PKF Studios (Me)–Learn More:
johnm.pkf@gmail.com