Killed My Skater Girl
Starring Salem
Directed by JohnM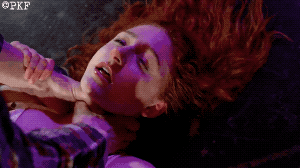 LINK TO VIDEO PREVIEW
HD and 4K Versions Available
Josie wanted to be a punk skater girl so that the boy she liked would like her back. She was practicing her rockin' moves at her dads pubs storage room after school. She was not very good.....yet. But she looked the part, and soon she would be landing bolts like the best of them!
But then her dad told her it was time to go home. And he dissed her skateboard. Not cool. She talked back and that got him into a rage. He grabbed her by the hair and yanked her down, dragging her out. But she got back up and hit him hard in the face.
Tony didn't know what came over him at that moment. He was always hating his little bitch of a daughter because she always talked back and was stupid just like his ex. Maybe it was the meth talking, but he freaked out and grabbed the fucking cunt by the neck, brought her down hard to the floor and started strangling her. She struggled and fought, her skinny little chicken legs kicking up a storm. She gagged and choked as he squeezed her tiny twig neck until she was not moving anymore. She lay there, utterly still, staring up.....a motionless girl...his girl. Fuck! He would make up a story. She never came home. Yeah, that would be the story. He grabbed a wheelchair. He plopped her in...she was so light, even in death. He probably should have made sure she ate healthier like a good parent...but, he was not one of those.
As he started pushing her, she was stuck. He went around front, picking up her legs. Her...adorable young pasty white legs. And then he saw the treasure between them and stopped and stared. Something arose in his groin. He wanted to fuck his dead teenage daughter.
He tossed her up on the bed and started his exploration down the dark path of incest and necrophilia. He took his time, touching her smooth skin, his cock so engorged it needed a hold to calm it down....and there was one, nice, moist hole right in front of him.
He spent the rest of his time fucking his dead teenage daughter--feeling her unimaginably tight pussy hugging his cock. The feeling was like no other and he did not want it to stop. But, after several positions, he finally filled her up with his hot load. With his daughters pussy full of his cum, he slipped off if her in a daze, grabbed her stupid skateboard and left her sprawled out on the bed, forgetting everything he was planing to do for the moment.
Fetish Elements: Explicit Sexual Content, Teenage/Young/Taboo, Hand Strangle, Necro Fucking, Body Views.
Note: Actresses are over 18 at the time of filming and the word "teen", "teenage", "young girl" is only meant to imply legal age characters regardless of audience interpretation.
PKF Studios adheres to USC 2257 record keeping requirements.
1920X1080 HD MP4 Format
AND
3840X2160 4K MP4 Format
PURCHASE OPTIONS AT: PKF UPDATES
Or Pre-fund an account through PKF Studios (Me)–Learn More:
EMAIL ME