Spies in the Office
Starring Savannah Costello, Miera Belle, Jennifer Stroeder
Directed by JohnM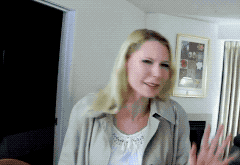 LINK TO VIDEO PREVIEW
Note: Image Restoration/Upgrade AI Upscaled 225% and upgraded to 60FPS
Three lovely spies rummage through the darkness as they look for valuable, secret files. Unfortunately, their adventure has not gone unnoticed. The facility security man confronts the girls. The leader, Savannah, tries to feed him a story, all the while, reaching for her gun. He is a seasoned professional and knows what she is planning before she does. Before she can even level her gun, she is hit three times with his silenced pistol. She is in shock, falls against a table - looking at him with pained eyes, then crumples to the floor in agony - bleeding everywhere.
He steps over her, letting her writhe in pain. Then he seduces the second girl, while forcing the third to strip, until she is completely naked. After taunting her, he orders her to get dressed again. Then he locks lips with the second girl, Jennifer. She is caught up in the moment of seduction when he surprises her - shooting her point blank under her breast twice. She is in disbelief, if only for a moment, then slowly falls to the floor, paralyzed in pain. The third girl, who witnessed the whole thing, but did nothing to save her friend, now makes a run for it. He shoots her once in the back, slamming her against the door. She turns around and takes two more shots in her well developed breasts. She falls on the ground, prone.
He goes back to Jennifer, paralyzed in pain and fear on the floor, and finishes her off with two shots in each breast. Savannah, watching all her friends get executed, struggles in pain, slowly bleeding out. He cuts open their tops and bras to examine his work and she is dead by the time he is finished. As he leaves, he rolls the third girl, Miera, over. She is still breathing and looks at him with pleading eyes. He places his silenced pistol to her chest and shoots her dead. He leaves the bullet riddled, half-naked bodies for the cleanup crew.
Role Play & Fetish Elements: Violence, Nudity, Sexual Content, Stripping, Multi-Shooting, Espionage, Blood, Body Views.
Note: All actors are at least 18 at the time of filming. All characters in PKF films are represented as 18 or over.
PKF Studios adheres to USC 2257 record keeping requirements.
1440X1080 60FPS MP4 Format
PURCHASE OPTIONS AT: PKF UPDATES
Or Pre-fund an account through PKF Studios:
LEARN MORE
Purchasing or General Questions: CONTACT ME