The Spy Who Attacked Me
Starring Ashley Lane
Directed by JohnM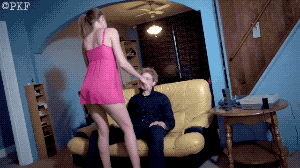 LINK TO VIDEO PREVIEW
HD and 4K Versions Available
It's 1989. Chad is on the phone with his buddy, excited about the escort that is coming over. Then he gets a call from the spy agency he works for---she is also spy and sent to recover stolen data.
The escort arrives. Right away she gets to work, giving him a pretty awkward dance, then sucking his cock. Catching him off guard, she pulls out her pistol and compels him to give her the tapes. But it was all a ruse and after a struggle, gets the upper hand and strangles her.
She puts up a good fight. After she is dead, he reports back to his agency for a cleaning crew, but allows enough time for the spoils of spy-dem.
He slowly removes her clothing then explores her beautiful body. She was probably a Russian double agent---it would explain her bad attempt at deception. It would also explain why he wanted her so badly, he always heard Russian spy were totally rad.
He licks her pussy, then enters her, fucking the dead spy in various positions before cumming inside her.
Later he wraps her in clear plastic and drags her off for disposal.
Role Play & Fetish Elements: Explicit Sexual Content, Espionage/Spy, 80s, Fighting, Hand Strangle, Necro, Body Views, Food Views.
Note: All actors are at least 18 at the time of filming. All characters in PKF films are represented as 18 or over.
PKF Studios adheres to USC 2257 record keeping requirements.
1920X1080 HD MP4 Format
AND
3840X2160 4K MP4 Format
PURCHASE OPTIONS AT: PKF UPDATES
Or Pre-fund an account through PKF Studios:
LEARN MORE
Purchasing or General Questions: CONTACT ME